As R language is becoming popular among scientists to build simple we bapplication along simple integration with RShiny, R web applications are being created at a fast rate. RShiny package is not only easy to integrate but also provides a lightweight user interface that is pleasing to the eyes.
How is R application developed?
What is the process to deploy and distribute R web applications?
Development
While web development can be done in many different environments, RStudio is widely used to develop R applications. Below is a snapshot of what RStudio looks like.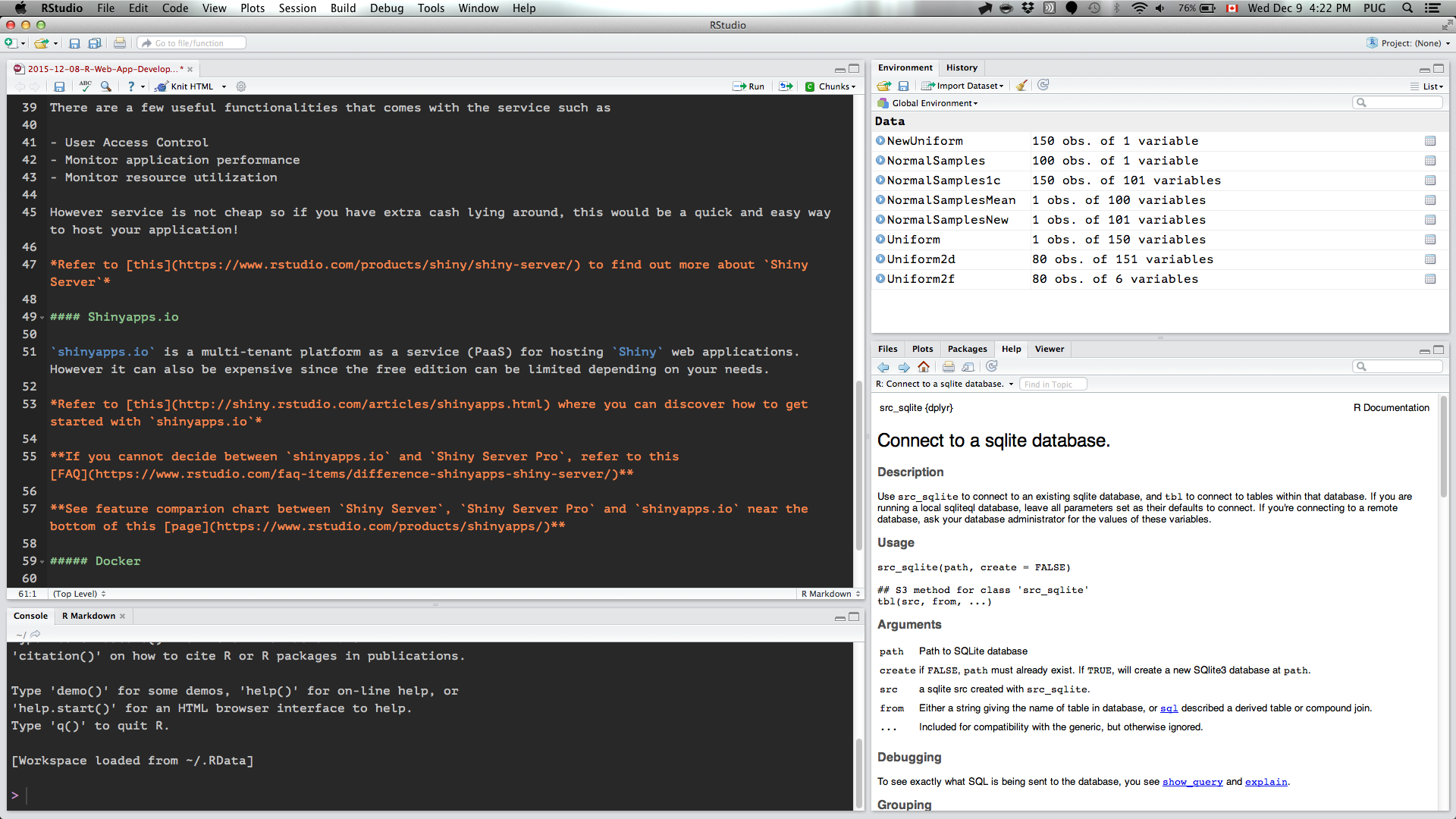 Distribution
If your end user has RStudio. then you can share your R files (ui.R and server.R) so that end user can run it through RStudio.
If you have your own server, whether it be AWS, Google Cloud, Microsoft Azure, you can share it there.
Docker + Kitematic
After you have 'dockerized' your Shiny application, you can share it on Kitematic. Kitematic is a GUI where users can upload and download Docker images to run it in their Docker containers. This makes distributing very simple and easy as Docker Hub can work like App Store! Below is a snapshot of Kitematic.

Refer to this blog post to learn how you can share your Shiny application with Docker and Kitematic
GitHub
You can share your code in a repository where other users can contribute by suggestions, corrections and additions. When another user clones your repository, the directory structure is kept so that all data is preserved as where they belong.
R Package
If you are an awesome R programmer, creating a R package is an useful way to distribute and share within R community. R packages are stored in Comprehensive R Archive Network (CRAN) repository where there is extra level of testing to enforce certain structure so users can ensure quality packages.
Refer to this blog post on how you can get started on creating a R package by David Smith